aktuella evenemang / senaste nytt
2014-06-17 06:50
by admin

4 images
Så är det äntligen dags för midsommar. Som vi sett fram mot denna helg som bara ska bli så kul med alla fester, och med det vackra och varma vädret, bad i böljan den blå och allt i glada och trevliga vänners lag.
Läs mer/Kommentera

aktuella evenemang / senaste nytt
2014-05-25 10:42
by Arne Johansson

2 images
Den från början misslyckade inbjudan blev inte bättre av valet av dag. Alltför få har anmält sitt intresse för att det ska vara meningsfullt med en fest och därför läggs årets festprojekt ned. Men skam den som ger sig; vi återkommer med ny inbjudan om fest till nästa vår/försommar, med bättre val av dag och med en bättre framförhållning.
Läs mer/Kommentera

aktuella evenemang / senaste nytt
2014-05-01 09:17
by Arne Johansson

2 images
Min, för ca 1 vecka sedan, invitation till 50-årsfest för Frösängsskolans avgångsår 1964 har stött på problem. Som, så vitt jag vet, är det den enda årskursen som haft regelbundna 5-årsfester och har därmed också en aktiv festkommitté som består av Siw Ohlsson Johansson och Yvonne Thollander Aho. Dessa har redan påbörjat planering för en fest i september. Kallelse till den festen kommer de f.d elever som slutade nian 1964 att få, dvs att de elever som valde en annan väg eller flyttade kommer inte att få inbjudan till den festen.
Läs mer/Kommentera
Feeds
As well as viewing Indymedia Ireland's content directly from the website, you can also access it using what are known as "feeds". These are a structured form of the site's data which can be read by many other pieces of software, including desktop news readers which can aggregate all your favourite news sources and notify you when new news is available.

There are two feed technologies currently in use and they are known as RSS and Atom, both of which are supported by Indymedia Ireland. RSS is the more popular feed format, though Atom is more standardised and has some advantages over it.

To access our feeds just click on the one of the feed buttons on the left sidebar and if you have a feed reader installed it should automatically open up and subscribe you to the feed.

We have several feed types listed below which offer different forms of our content:
Summaries Feed
This is the default feed with just article titles and summaries. Its ideal if your using the feed to get notifications and then follow the link to the website.
Full Posts Feed
This feed contains the full article contents and is ideal if you wish to view the entire article in your news reader application. Please note however that if an article has attachments then RSS will only display the first one, while Atom feeds will display them all. This is a limitation of RSS.
Comment Feeds
You can also track comments posted to a particular article by monitoring a feed of that articles comments. To access these comment feeds just look at the bottom of each article where you will find an RSS and Atom button linking to the feed.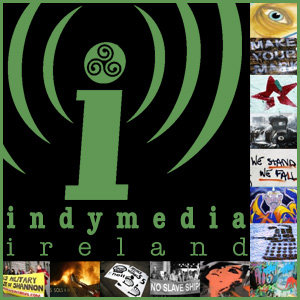 Podcast Feed
We also provide a Podcast feed of all our audio and video content, which can be viewed in iTunes or any other podcast client. Please note that only audio and video content which is quicktime or mpeg compliant will be included in this feed.

The iTunes button will take you to the Indymedia Ireland entry on the iTunes Music Store where you can subscribe to our feed. The podcast button will open the podcast in your installed newsreader (which will need to support enclosures if you wish to see the audio and video content).

Customised Feeds
While our feeds default to showing all content you can customize a feed to show only a subset of content based on certain criteria. These criteria include
author_name
search_text
topic
region
type
You can use these criteria by appending them to the end of the feed url as follows
For the topic environment append ?topic=environment
For the region dublin append ?region=dublin
For articles of type feature append ?type=feature
For articles where the word shannon occurs append ?search_text=shannon
For articles by the author redjade append ?author_name=redjade
You can combine these values also by using an ampersand so if you want to get a feed of bintax articles concerning dublin written by seedot append ?author_name=seedot&region=dublin&topic=bintax

If the topic, type or region you wish to search for has spaces or hyphens you can leave them out, so Anti-War would become antiwar and Bin Tax would become bintax.

For spaces in the search_text replace them with %20, so ?search_text=bertie ahern would become ?search_text=bertie%20ahern

Note that all text is case insensitive.

If you have any queries about our feeds please let us know using the contact form.